SPRING IS HERE
Our Catch the Ace Lottery is Back
Winner Week # 5 John King $618.00, Envelope 4, Card 4 of Spades, Ticket #02852 - Progressive Pot $4,485.00
Next Draw Thursday, April 26 - Tickets Now On Sale - $5,00 ea.
Lottery License # 733355 - Click Blue Poster for New Rules
Your Support in our previous "Catch The Ace" aided Erin Service Clubs, Air Cadets and the Legion in its assistance to Veterans and other Community needs.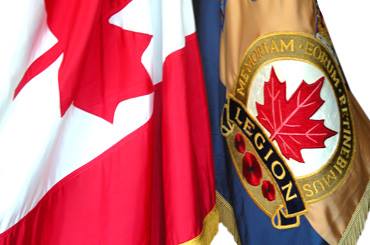 Annual General Meeting - 7:30 p.m.
Let us have a Full House for this Very Important Meeting when you Elect your President & Executive for the 2019 - 2020 Year
All Are Welcome At Our Events
You Don't Have To Be A Legion Member
Come and Mingle With Your Friends & Neighbours

BECOME A LEGION VOLUNTEER
You don't have to be a member - By being a volunteer you are helping to serve the community and yourself. If interested click the photo on the left. Contact us at 519-833-7467 - 519-833-2212 or erincanadianlegion@bellnet.ca
Facebook Fans - We are now on Facebook - Just go to the bottom of this page and click on facebook or the red poppy.
please Note: Our Hours are Posted on the Branch Information page
Executive - Branch Information - Hall Rental - Veterans Service - Membership - Coming Events - Air Cadets - Community Service - Cenotaph - Supreme Sacrifice - Photo Gallery - Links
Last Update 19 April, 2019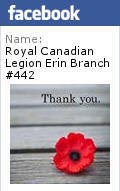 Facebook is an unregulated Social Media medium and
as such Branch 442 Erin and the Royal Canadian Legion
accept no responsibility for the comments or
Information posted on Facebook
Established 14 November 2009