Catch the Ace Draws are Back
Branch 442 Catch The Ace Lottery Results
WEEK No. 32 DATE Friday 26 May, 2023
WINNER Gord Smith AMOUNT 1,128.00
ENVELOPE No. 17 CARD Queen of Diamonds PROGRESSIVE POT $27,967.50
Next Draw Friday 02 June, 2023
GENERAL MEMBERSHIP MEETING WEDNESDAY, June 07, 7:30 pm
Attend & Support your 2023-2024 President & Executive
As part of your Membership Oath you are required to observe the Rules and By-Laws and Promote the works of the Legion

Photos of the 2023-2024 President & Executive are on the Community Service Page
See the Coming Events page for Days, Hours and Changes
Military Service Recognition Book
The Royal Canadian Legion Ontario Command
Do you have a Family Member or Relative that is or has Served in the Canadian Armed Forces?
We would like to Honour Them with a short story & photo in our Tenth Book
Click Poster for details There is no cost involved and a copy of the book is free from the Legion when it is published
For information and assistance contact
Service Officer Doug Kirkwood - doug.kirkwood@sympatico.ca - 905-845-8477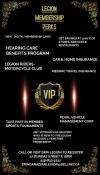 Legion Join Us or Renewal - Click Link
When signing up online please indicate Erin Legion Branch 442 and we will be notified
Click Poster for details of the benefits you can enjoy as a Legion Member
Information and Reviews of our recently published "WE WILL REMEMBER THEM" The Men & Women of Erin & District is listed below.
"WE WILL REMEMBER THEM"
The Men & Women of Erin & District
Click Poster for Details
"It is a staggering 360 pages of the stories of the Fallen, those who Volunteered and the local military local history from the Loyalist days of the late 1700's to Afghanistan including what was like here on "Home Front" during the two World Wars. It has been a work in progress for a decade and a half." – Jay Mowat, Erin Radio
"I read it all last night and today. Fabulous! Fabulous! Thank You! – Debbi Scott, Erin ON
I read it from cover to cover and document in the margins all family connections. We will place this book with other family history so future generation can follow our connections to the township and the military service. Thanks for all your work - Bill Cunningham - Southampton ON
"What a terrific book for me to have. You have created a new and very special link with the past for the whole Erin community. I can now connect so much more easily with the friends and families I have come to know over the past 50 years. Thank you so much." - Jim Sparks, Erin ON
"Your book, "We Will Remember Them", is an impressive piece of research and a fine read. As the child of Dutch immigrants, I have a much better knowledge of the great effort by Canadians that went into their liberation in 1945 after reading it. I love how you wove the life of the Village of Erin into the military narrative and global events. All the individual stories of the fighting men are riveting reads. You have really honoured Erin and District's service men and women in your book! Thank you for writing it. It will be a go to historical resource for generations to come! - My parents did not tell us much about their war years besides telling us to eat all the food on our plate as they had to go to the compost pile to dig up old potato peels to eat." - Jane Vandervliet – Erin ON
Check the Coming Events Page for the Latest Events